School's Out for Summer!
March 22, 2016 7:42 pm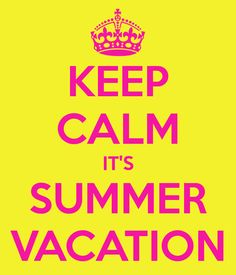 If your children are anything like mine, summer means vacationing at the beach. For me, I immediately think of alternatives to a beach vacation. Whether your child goes to day camp, stays with a sitter or stays home with you, try to plan outings this summer that are special for your family. Allow your child to help plan an activity. Here are some favorite summertime picks suggested by our staff:

• Picnics in the Park—Snacking is more prevalent in the summertime, so it's important to have healthy options available for your child. Picnic lunches can be extremely healthy and Georgia has 66 state parks to visit…see them all!                                                                                                   http://gastateparks.org/
• Library Adventures—Contrary to popular belief, the library isn't the archaic place of yesteryear. They invite special guests/readers and children can find books on anything. Register them for their own library card and visit weekly!
• Hikes—Georgia is the place to hike and this is great exercise for free. Recent studies conclude children gain up to three times as much weight during summer as they do during the entire school year…Ouch!
• Scavenger Hunts—Great activity for rainy days. "Find something yellow. Find something that begins with letter "R". Find something round". When they find everything on the list, reward them with a trip for frozen yogurt.
• Discover Georgia—Georgia offers hundreds of educational and fun places that are free or easy on your wallet. Etowah Indian Mounds (Cartersville), the Gold Museum (Dahlonega), Amicalola Falls (Dawsonville), Georgia Sports Hall of Fame (Macon), the Little White House (Warm Springs), Museum of Aviation (Warner Robins) and the Southeastern Railroad Museum (Duluth).
Disney World, sleep-away camps, cruises and week vacations in Destin are not for everyone, but spending time with your child should be. One day we will wake up and say, "This is the last summer I have with my child before they go to____________ (fill in the blank)". Savor these summer vacations!