What?? Holiday Stress??!!
December 6, 2016 2:51 pm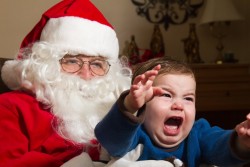 Hoo-ray! The holidays are upon us!  We think about them all year long, plan weeks in advance,  make endless lists to achieve the perfect holiday season  and they come and go in the blink of an eye.  Then what?  We begin the process over by thinking what we will do different next year to achieve superstar  results and Martha Stewart approval.  But maybe we should have different thoughts when it comes to our children during the holidays.
The hustle and bustle of parties, family get together, church events, shopping days (and nights), cooking, late night baking and rushing around to get the perfect Facebook picture might be adding stress to our children. Children don't stress, you say?  Oh yes they do!   Children can easily become stressed and they can feel ours.  Crying for minor reasons, withdrawal from family/friends, loss of appetite, bedwetting  and  the inability to sleep are all signs of stress.  What can we do to help our child have a stress-free holiday?  Here are some helpful hints:
Remember routines: Children respond positively to routines (bedtimes, meal times). When routines are broken, children break.
Just say "No": It's ok to decline 5 invitations from the 20 you receive. Savor the time to be with your child instead.
Nutrition: Excessive amounts of cookies/ candy, skipping meals or eating out routinely because you don't have time to cook…all earmarks of stressors.   Plan at least one healthy meal daily with your family and eat it at the table together.
Favorite thing: Traveling, visiting or going out for the entire day? Take your child's favorite item with you. This might be a blanket or stuffed animal, but it is an item that brings comfort of home.
Rest: While you're scheduling your events and to-do lists, schedule time to rest and relax. A well-rested child is a much happier child. Remember to nap!
Don't sweat the small stuff: Forgot the marshmallows? Forgot to buy a present? Your lights aren't twinkling as bright? It will be ok. Just don't forget to give your child sweet memories of a holiday filled with fun and love.
And just for kicks and giggles….remember,